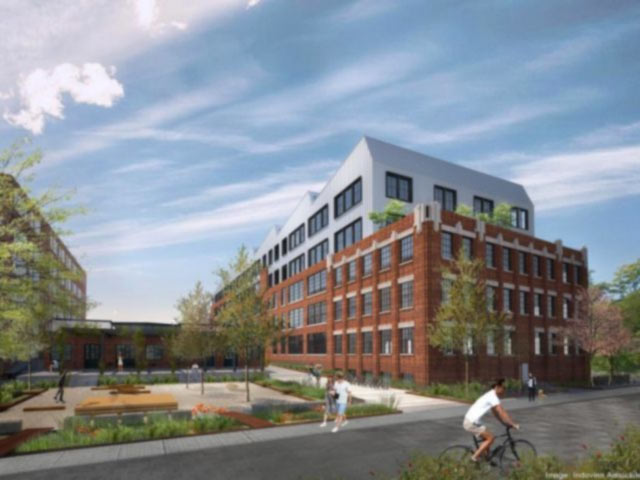 ICON Development lands 3M for $100 million innovation campus in North Point Breeze
Pittsburgh Business Times
Mar 16, 2020, 3:07pm EDT

In its bid to revitalize and rebrand a more than 20-acre swath of the East End, ICON Development Inc. has landed M*Modal, a local division of the 3M Co. (NYSE:MMM), to take a 53,000-square-foot office in a 142,000-square-foot building renovation under construction now.
It's a vision-affirming deal that will bring the $1 billion acquisition of a publicly traded Fortune 100 company to an address on the north side of Penn Avenue in a stretch of North Point Breeze neighboring Homewood that likely hasn't seen such a major company take a Class-A quality office in decades.
With 3M expected to move to the redevelopment project this December, the new deal is expected to help put ICON Development on the map for what they've been working on for five years now: assembling a collection of aging office and industrial properties to be knit together into a larger district.
3M declined to comment. Nor would Brad Totten, the managing partner of the Pittsburgh office of Avison Young, who represented 3M in the search.
Jason Stewart, a managing director of the Pittsburgh office of JLL who is leading the leasing effort for ICON, expects the 3M deal will play a key role in building out a larger project that could total as much as 800,000 square feet of space at a total build-out cost roughly projected in the $100 million range.

"I think it absolutely validates ICON's investment strategy here in North Point Breeze," said Stewart. "For a company as sophisticated and as image-conscious as 3M to make a commitment to this development even prior to our formal launch of branding and marketing, it speaks to our economy" and the many strengths of the site and what it can offer, he added.

Based in Minneapolis, where its origins are as the Minnesota Mining and Manufacturing Co., 3M (NYSE: MMM) is an international conglomerate perhaps most known in the media at the moment as the maker of kind of protective masks used by medical professionals much in demand right now due to the COVID-19 world pandemic, a role the company highlights on its website.

But as a multi-billion-dollar company with thousands of employees around the world, 3M is a developer and manufacturer of dozens of different kinds of products, from the ubiquitous Post-It note, to various sanders, to filters, to duct tape, to syringes to various dental supplies and insulation, among many others.
The company established a presence in Pittsburgh when it bought M*Modal's technology business for $1 billion in a deal that closed in January 2019.
It was 3M's Health Information Systems division based in Utah that M*Modal became a part of at the international conglomerate, bringing into the fold a one-time startup out of Carnegie Mellon University whose founders live in and are familiar with the city's East End.

Stewart notes the deal represents an expansion for 3M's M*Modal group, which will be leaving an office of about 20,000 square feet at the corner of Forbes and Murray in Squirrel Hill for the new redeveloped office space of more than 50,000 square feet at 7514 Thomas Boulevard.
It's a long underused structure that ICON and its contractor Franjo Construction are adding two floors onto, capped off by a sawtooth-patterned top floor, based on a design by Strip District-based Indovina Associates Architects.

Along with various partners and other members of its team, ICON Development is led by Jason Lardo, who has been working for the past five years to buy a collection of properties with which to develop together a larger innovation campus, and his brother Al Lardo, a former fellow at Johns Hopkins University in Baltimore whose expertise in biomedical engineering lead him to found a number of medical device start ups along with with the investment firm, Ellsworth Capital Partners.
Jason Lardo, who has also developed apartment and condo projects in Shadyside and Bloomfield, expects the larger district ICON is working to regenerate is restoring a strong industrial heritage it started with more than 100 years ago.

The new office for 3M will position it amid buildings out of which such companies as Management Science Associates, one-time Pittsburgh industrial giant Rockwell and many others once helped to make Pittsburgh such an economic stronghold of the early 20th century, in a neighborhood close to where George Westinghouse once lived.
"I think you have to come here," he said. "Once you see this and you know what the market is, then you realize that this is a diamond in the rough."
3M is perhaps the biggest name tenant to date at what will be a much larger plan to restore and regenerate five buildings in the larger district; ICON and JLL are working on a branding effort to establish a full new name and identity for the larger plan.

Already achieving initial approvals, ICON expects to close on buying the 370,000-square-foot former Rockwell building to add to the larger plan from the Urban Redevelopment Authority of Pittsburgh in the coming weeks. Al Lardo said he expects the larger campus approach will add flexible options for companies seeking space, adding to the larger appeal.
"I think you have to come here," he said. "Once you see this and you know what the market is, then you realize that this is a diamond in the rough."